Welcome to our Blog Page
From time to time, we will add some things to this page we think people from around the world might be interested in. We hope you enjoy it!
Sydney region hit by the storm of the century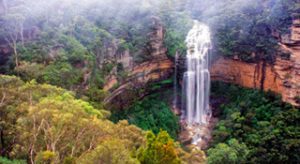 In April 2015, the Sydney region was hit by what was labelled as the storm of the century. Road were flooded, trees and power lines were blown over by 130km/h winds, schools were closed and a huge amount of rain fell. On 22 April 2015, for the first time ever, we were forced to cancel our tour for the day.
The very next day, the clouds parted and I saw something truly amazing. The waterfalls in the Blue Mountains had more water flowing over them than I had ever seen before. Whilst we alway see a waterfall or two on our day tours, for the next days our main focus was to see as many waterfalls as possible.

Blue Mountains Eco Tours is now on Instagram
Every day in the mountains is a bit different from the last. With photography being a passion of mine, we started using Instagram to show some of my favourite shots. Check it out!