---
Blue Mountains Wildlife Tour
A truly unique Blue Mountains Wildlife Tour $AU225/Person
Our Blue Mountains Wildlife Tour really is something different, all the best views and wild kangaroos! We show you the greatest sights in the Blue Mountains, off the beaten track and away from the crowds. We then finish the day enjoying a sunset picnic surrounded by native Australian animals in the wild! From rainforest walks to Wallabies and Kangaroos, if you have a love for the outdoors and wildlife, and are keen to see some of Australia's most famous and iconic wildlife, then our Twilight/Wildlife tour is the one for you!
Small groups of no more than 5 people travelling in style our luxury Land Rover Discovery Vehicle, we will take you to where the larger busses and groups cannot. Your tour guide, a Sydney local who brings more 15 years of guiding experience to your day. Not only will you see the 3 Sisters and other famous sights, you will also get to explore off the beaten track locations and look outs that very few know about.
Our aim is for to you to leave the Blue Mountains feeling satisfied and refreshed after spending a full day exploring.
We take great pride in being the only Blue Mountains tour company to offer this unique experience.
Twilight tour of the Blue Mountains: Price per person $AU225
Pick up between 10 – 10:30am from your Sydney Hotel
Travelling in style and luxury in our 4WD Land Rover Discovery, you begin your journey through Sydney to the magnificent Blue Mountains.
Paul will take this time to get to know you, and provide an interesting and informative commentary along the way.
Your first stop is not to be forgotten, spectacular undisturbed views of the Jamison Valley. Here you will enjoy a delicious and generous morning tea of fresh seasonal fruit, a selection of tea and coffee, and Australian biscuits.
Enjoy seeing the famous Three Sisters, with great photo opportunities and away from all the crowds.
Work up an appetite with guided walks/hikes, this time Paul will take you along cliff top trails to beautiful, secluded lookouts and waterfalls.
Stopping for lunch at the historical and quaint town of Leura, take your pick of the delicious eateries, from famous Pie's to Fine Dining. Its also perfect for any last minute souvenir shopping.
Your afternoon will be spent taking full advantage of our Land Rover 4WD, by getting off the beaten track to secluded and untouched Blue Mountains locations.
Travelling on the road less travelled you will head to our secret location, where you will spend your sunset in the Valley of the Mountains along with the Wallabies and Kangaroos. Make the most of the serenity, view and wildlife whilst enjoying Cheese and Biscuits.
Say goodbye to the Mountains, it's now time to relax, and make the most of the journey home. You should arrive back around 19:30 – 20:00.
Walking / hiking is an important feature of our tour, a reasonable walking ability is required.
Please note that the itinerary may not be in this order, and may also change due to traffic, weather conditions and visibility.
We aim to provide you with an unforgettable day of the Blue Mountains, and therefore due to competitors and privacy we do not enclose our full detailed itinerary.
If you are traveling with children, please contact us on info@bluemountainsecotours.com for more information and prices.
Please see below for a more detailed itinerary of our Twilight Wildlife Tour: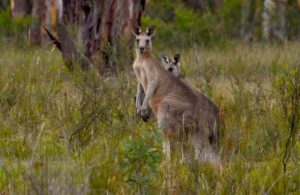 With a maximum group of 5 people (up to 6 adults for private groups and families) you will be given a level of personal attention unrivalled by other tour companies. Along the way Paul will provide details of the days itinerary's as well as a commentary on the history of Sydney and the Blue Mountains.
Once in the Blue Mountains we will stop for a view of the 3 Sisters and the beautiful Jamison Valley before lunch from secluded uncrowded lookouts.
We will stop for lunch in the quaint, heritage town of Leura. During this break you will have an hour to decide which cuisine takes your fancy, from fine dining to affordable delicious food – don't worry Paul has sampled the food in almost every restaurant in town and will be more than happy to provide recommendations for every kind of budget and taste.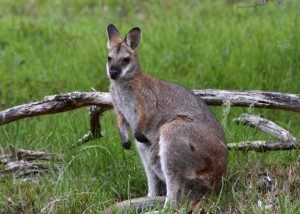 After lunch, there will be more heart stopping photo opportunities and jaw dropping sightseeing. You will enjoy travelling along 4wd trails and venturing to places where anything other than a 4wd vehicle cannot, meaning secluded and private views of some of the most awe inspiring landscapes in the world.
As the sun gets a little lower, some of our famous wildlife starts to wake up and only we know where to find them. A beautiful drive through a temperate rain forest takes us down below the cliffs where you are surrounded by 200 meter tall sandstone escarpments. Through many years of local knowledge we have learned where to find Kangaroo's, Wallabies and maybe even a Wombat or Goanna. We will enjoy a picnic afternoon tea surrounded by a stunning landscape and Australia's famous wildlife close by.
Why Choose Us?
– Professional service and excellent value
– Your tour guide has over 15 years experience
– Small groups, no more than 5 people per tour
– All day spent exploring the Blue Mountains
The Best Quality Vehicle
Our Land Rover Discovery is the greatest way to see the Mountains, with leather seats, air conditioning and the guarantee of no more then 5 people, you will be travelling in comfort and style.